---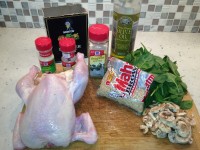 Ingredients
1.5 Quarts of Water
1/2 Ts. Olive Oil
1/2 Ts Crushed Red Pepper
1/2 Ts. Onion Powder
1/2 Ts. Dried Oregano
1 Ts. Kosher Salt
2 Cups of Brown Rice
Handful of Baby Spinach
Handful of Sliced Mushrooms
1 Whole Chicken (mine was from a local farm. enquire for details)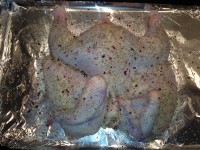 Chicken Prep
1. Preheat oven to 425 with convention or 450 without.
2. Butterfly chicken with sharp knife or shears at breast bone.
3. Remove all excess fat but leave skin on.
4. Wash chicken thoroughly with water and dry off with paper towel.
(remove all excess water from chicken)
5. Line large baking shallow baking sheet with aluminum foil and place chicken for seasoning.
6. Coat chicken with salt, crushed red pepper, onion powder, and oregano thoroughly. Place chicken skin side up on baking sheet and place in oven.
7. Cook chicken for 50 min.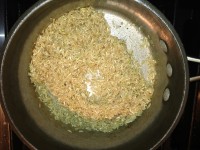 Rice Prep 1
1. In a medium pot add 1/2 Ts. of olive oil.
2. Add rice to olive oil and stir rigorously for 2 minutes.
(use caution not to allow rice to stick to pot)
3. Add 1.5 quarts of water to pot, add 1/4 Ts. salt, bring to a boil, reduce heat, and cover. Simmer rice for 40 min.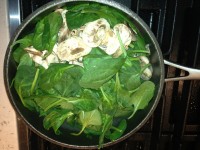 Rice Prep 2
1. Once rice has cooked for about 40 min, add spinach and mushrooms.
2. Cover and cook for for 2 min to allow spinach to wilt.
(check to make sure there is enough water to cook rice for another 5 min so rice does not stick to bottom of pot)
3. Stir to incorporate spinach and mushrooms. Cover and turn off heat.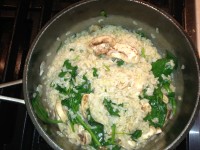 Final Rice
This is how the rice should look like when it's ready to serve. It should have a creamy consistency. Allow rice to sit covered a little longer if it is runny.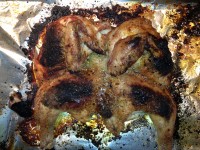 Final Chicken
Chicken is ready when it is golden brown. Don't worry about the slightly burned skin. It does not mean the chicken is over cooked or dry.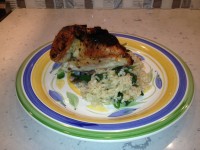 Juicy & Crispy!
100% Satisfaction
100% Lean & Mean
Prep Time: 15 min.
Cook Time: 45-50 min.