---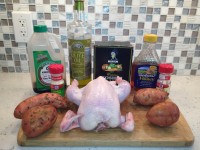 Ingredients
Kosher Salt
2 Ts. Honey
2 Ts. Low Sodium Soy Sauce
1 ts. Crushed Red Pepper
1 ts. onion powder
1 Ts. Extra Virgin Olive Oil
4 Medium Sweet Potatoes
1 Whole Chicken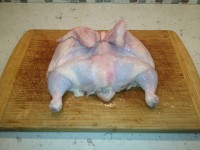 Prep Chicken 1
1. Preheat oven.
*425 degrees with convection oven or 450 degrees without.
2. Butterfly chicken by splitting the breast cavity with sharp knife.
3. Wash inside and outside of chicken throughly.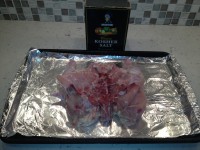 Chicken Prep 2
1. Place chicken on aluminum foil covered shallow baking sheet, add salt, and set aside.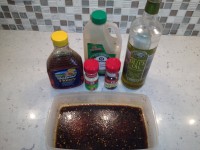 Make Glaze
1. Combine honey, soy sauce, crushed red pepper, a pinch of salt, onion powder, and olive oil.
Tip: Leave crushed red pepper out if you prefer a milder version.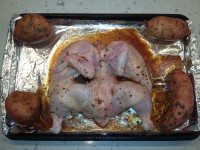 Chicken Prep 3
1. With bone side up, pour glaze on chicken, and thoroughly spread with hand.
2. Turn chicken over so skin is facing up and rub glaze thoroughly on skin.
3. Add washed sweet potatoes to four corners of baking sheet.
Baked Chicken
1. Bake for 50 min at 425 degrees with convection oven or 55 min at 450 degrees without convection.
*The caramelization of the honey in the glaze will darken the skin appearing burned in some parts. Do not be alarmed this is normal.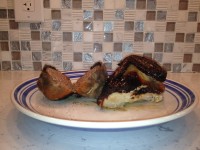 Serve
1. Cut chicken into 1/4 pieces.
2. Add salt & pepper to sweet potato and serve.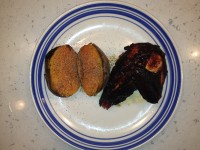 Time to Eat!
Tasty & easy on the waistline!
Delicious!
Prep Time: 5-10 min.
Cook Time: 50 – 55 min.